UPDATE: Father, 2 young girls located in Cottage Grove after Amber Alert
KARE 11– COTTAGE GROVE, Minn. — A father and his two young children were located in Cottage Grove at about 10:30 a.m. Friday, just over two hours after an Amber Alert was issued.
The BCA issued the alert at about 8:20 a.m. on Friday, after they say 25-year-old Jeffrey Lo assaulted the mother of his children and abducted their two young girls, ages 1 and 3.
Court records show there was already an outstanding warrant out for Lo, and an order for protection filed against him in May.
The Minnesota Bureau of Criminal Apprehension (BCA) says Lo fled the scene of the assault in Cottage Grove just after 6:30 a.m. in a mini van. The public was asked to call 911 and not approach if they saw him, as he was believed to be armed.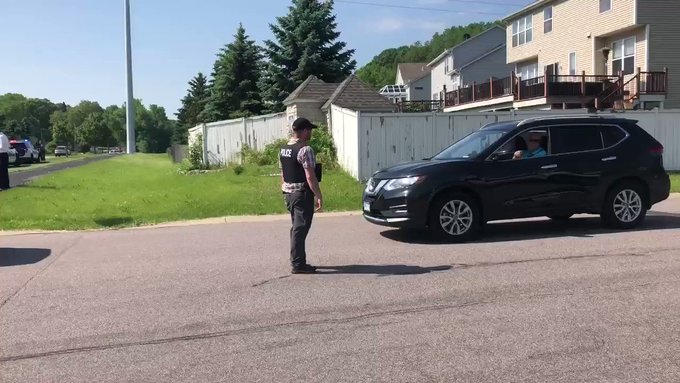 Authorities were searching Cottage Grove in the area of Hardwood Park all morning Friday, until SKY 11 footage showed them leading someone to a squad car at 10:30 a.m. Cottage Grove police say the children are safe.
Court records show an outstanding warrant for Lo, for failing to appear at a court hearing in May in connection with criminal damage to property charges in Washington County.
Records also show there was a domestic assault order for protection (OFP) filed against Lo by the mother of his children in early May. In the petition for the OFP, she stated that he was angry that she slept on the floor, and at about 3 a.m. on March 1, he woke her up and started yelling at her.
She said in the petition that Lo pulled her hair and punched her. When she tried to go outside, she said he told her, "If you are going to go outside for help, I'm going to kill you."
On another occasion in January, she wrote in the petition for the OFP that Lo was angry that she couldn't find his phone. She said he was trying to hit her in the back seat of the car, and she asked him to pull over. She said he told her, "If you get out of the car, I will use this car to run you over," according to the petition.
She said another time in December, he threw a folding chair at her and threatened to kill her and her family, according to the petition.
She stated when she asked for the OFP that Lo has been abusive for a couple of years, and had begun showing up at her place of work and her parents' home. She also said that he was not letting her leave the home with both of the children.
According to court records, Lo was supposed to be granted temporary parenting time beginning June 8, every other Saturday, from 2:30 to 6:30 p.m. in a public place.
According to a police citation filed on February 5, 2019, witnesses saw Lo kick a taillight on a vehicle in the driveway of the mother of his children.
Emergency Management for South Washington County Schools says Crestview Elementary was on modified lockdown while crews searched for Lo. No students were in school but staff were present, according to the district.
—————————————————————————————————————————————–
COTTAGE GROVE, MN– An Amber Alert has been issued after two child are believed to have been abducted from Cottage Grove, Minnesota.
According to the Minnesota Bureau of Criminal Apprehension, Jeffrey Lo, 25, alleged assaulted the mother of his two children around 6:34 a.m. Friday and left the scene in the mother's mini van with the children.
Jeffrey Lo is described as an Asian male, 5′ 5″, 180 lbs. with brown eyes. He is believed to be armed, and authorities are asking the public not to approach him. Instead, call 911.
The children are Asian females ages 1 and 3. According to the BCA, it is unknown what they are wearing.
The mini-van is a 2004 Toyota Sierra MN license plate 708XEM tan in color.